Erosion Control and Stormwater Services in Travis County
BPI Partners, Inc. is dedicated to protecting the environment and the long-term satisfaction of our customers, which is why our team of experts offers top-notch erosion control and stormwater services. At BPI Partners, Inc., we know implementing effective erosion control measures is crucial to ensure that construction projects are completed on time and within budget while minimizing environmental impact.
What Are Stormwater Services?
Stormwater management is the effort to reduce runoff of rainwater or melted snow into streets, lawns and other sites and the improvement of water quality. When stormwater is absorbed into the soil, it is filtered and ultimately replenishes aquifers or flows into streams and rivers. However, when heavy rainwater hits, ground saturated by water creates excess moisture that runs across the surface and into storm sewers and road ditches. This water often carries debris, chemicals, bacteria, eroded soil, and other pollutants, and carries them into streams, rivers, lakes, or wetlands.
Stormwater management services aim to minimize potential damage caused by stormwater, like working with homeowners to develop a Stormwater Pollution Prevention Plan (SWPPP). Stormwater services may include:
Stormwater management plans
Developing and implementing plans to manage stormwater runoff, including the use of retention and detention ponds, swales, and other green infrastructure practices.
Stormwater design
Designing stormwater systems, such as storm drains, culverts, and catch basins, to effectively manage runoff and prevent flooding.
Inspection and maintenance
Inspecting stormwater infrastructure and maintaining it to ensure it is functioning properly and not contributing to environmental harm.
Pollution prevention
Implementing best management practices to prevent or reduce the amount of pollutants that enter stormwater runoff, including street sweeping, spill prevention and response, and erosion and sediment control.
Education and outreach
Educating the public and businesses on the importance of stormwater management and how they can contribute to pollution prevention.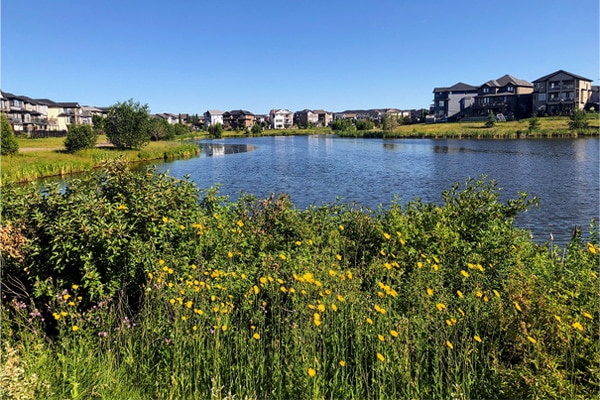 What is an SWPPP?
A Stormwater Pollution Prevention Plan (SWPPP) aims to prevent or minimize the release of pollutants from construction activities that can harm water quality and aquatic life. SWPPPs are typically required by the US Environmental Protection Agency (EPA) or state environmental agencies as part of the National Pollutant Discharge Elimination System (NPDES) permitting program. SWPPPs are intended to identify potential sources of pollutants on a construction site, establish measures to prevent or control stormwater runoff, and ensure that contractors and site workers are aware of their responsibilities for pollution prevention. The plan typically includes a site map, erosion and sediment control measures, means to prevent spills and leaks, actions to prevent or control runoff from disturbed areas, and procedures for inspecting and maintaining control measures. The SWPPP must be developed by a qualified professional (like an expert from BPI Partners, Inc.) and updated throughout construction. By preventing or minimizing the discharge of pollutants into stormwater runoff, SWPPPs help to protect water resources and promote the health of aquatic ecosystems. Developing an SWPPP is critical to the long-term condition of your property. Luckily, our professionals at BPI Partners, Inc. can create an SWPPP for your property in Travis County. When you book an environmental engineering consultation, ask one of our experts about an SWPPP for your project.
How to Control Erosion in Your Yard
Erosion control involves implementing a range of measures to protect soil from erosion and sedimentation during construction. Our team of professionals can ensure your projects' success while minimizing your environmental impact by taking proactive steps to prevent soil erosion and sedimentation. Erosion can be difficult to manage without a construction project. If erosion is impacting your landscaping, call our team of experts at BPI Partners, Inc. The best method for better control of excess erosion is with professional help from BPI Partners, Inc. Our trained and certified technicians can handle erosion control services for any lawn. When you book an Environmental Engineering Consultation, we'll thoroughly inspect your yard to identify every area that needs sediment control and develop customized solutions to ensure your lawn is healthy and thrives. Erosion controls are often part of stormwater runoff management programs required by local governments (see our EEC article for more info on an SWPPP). The controls often involve the creation of a physical barrier to absorb some of the energy causing the erosion. All construction site operators engaged in clearing, grading, and excavation activities that disturb one acre or more, including smaller sites in a larger common development plan or sale, must prepare an SWPPP and obtain coverage under National Pollutant Discharge Elimination System (NPDES).
Benefits of Erosion Control
Our team at BPI Partners, Inc. knows there are numerous benefits to providing erosion control services to homeowners in Texas. By being proactive about erosion control, you can begin placing the building blocks necessary for a sustainable, lush, and healthy lawn. Incorporating sediment control tricks and tools throughout landscaping means you'll experience the following benefits:
Better structural longevity
By protecting soil from erosion, erosion control measures can help prevent damage to structures and other property and can also help ensure the safety of people and animals on the property.
Better quality control
When the soil is consistently eroded, it can strip it of its necessary nutrients, depriving plant life of necessary resources and reducing the condition of your lawn and landscaping.
Reduced water usage
By properly targeting areas of the lawn that need consistent watering, you can reduce erosion and over- and under-watering.
Better maintained landscaping
With the necessary nutrients and soil placement, you can ensure the stunning health and appearance of your tailored landscaping.
Contact Us For Erosion Control and Stormwater Services in Travis County
If you're a homeowner in Austin and the surrounding areas, and you're concerned about soil erosion and sedimentation on your property, or if you're planning a construction or landscaping project and want to ensure that erosion is properly controlled, call BPI Partners, Inc. By working with our knowledgeable, professional team, you can have peace of mind knowing that your property is protected from erosion and sedimentation and that your construction or landscaping project is completed safely and responsibly. You can reach our team by calling
(512) 288-5522
or filling out our
online contact form
. So, don't hesitate to contact BPI Partners, Inc. for erosion control services – it's a smart investment that can provide significant benefits for your property and the surrounding environment.